Biography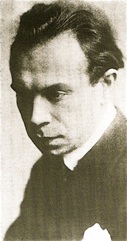 Oppenheimer (Puttkamer)
The Expressionist painter and printmaker Max Oppenheimer was born in Vienna, Austria on July 1, 1885, to Jewish parents. A child prodigy, Oppenheimer studied art at the age of 15 at the Vienna Academy of Fine Arts and later at the Prague School of Art and his early interest was in Impressionist painting. By 1912 he was using the pseudonym ''Mopp."
In Vienna Oppenheimer's circle of friends and associates included Egon Schiele, Oskar Kokoschka and Albert Paris Gütersloh. Kokoschka's painting style particulary influenced Oppenheimer: the Austrian Expressionist painting style was about to be born. In 1906, Oppenheimer's work was first exhibited at the Vienna Secession despite the fact that students were not permitted to participate. In 1908, his self-portrait was included in an important exhibit of contemporary art organized by Klimt and others. The following year Oppenheimer's portrait of a young man titled "The Blue Ring" was shown in the show.
From 1910 onward his artistic output was prolific. He earned a reputation for portraits of Viennese artists, intellectuals and well-known personalities including Heinrich Mann, Arthur Schnitzler, Arnold Schönberg, Peter Altenberg and Egon Schiele. In 1911 Oppenheimer had his first solo exhibition at the Moderne Galerie in Munich, Germany.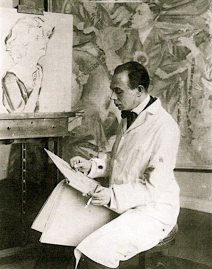 Oppenheimer at Work (Katalog Jüd. Museum)
In 1912 Oppenheimer briefly lived in Berlin, Germany and then moved to Switzerland where he lived until 1915. He exhibited at the Salon of Paul Cassirer and was a freelance writer for the social revolutionary magazine "Die Aktion". After World War I Oppenheimer returned to Switzerland where he lived intermittently until 1924.
Oppenheimer employed Cubist elements in his work and in 1916 he participates in the first major Dada exhibition in Zurich. His massive paintings of orchestra musicians in performance were first exhibited at the Vienna Hagenbund in 1924 and in 1925 at the Biennale in Rome, Italy. Also in 1925, he was named a vice president of the newly established "Kunstschau".
In 1926 Max Oppenheimer returned to Berlin. His works were seen at Paul Cassirer's Salon and in the Galerie Arnold in Dresden. German museums acquired his works. But the increasingly difficult political situation in Germany for Oppenheimer as both a Jew and a homosexual led to him leaving Germany and returning to Vienna in 1931.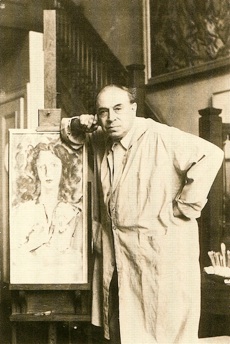 In his New York studio (Jüd. Museum)
In 1932 many of his works were included in the Autumn exhibition of the Vienna Künstlerhaus. In 1934 he created 15 paintings for the next year's show at the Vienna Secession. Through the Austrian government, Oppenheimer was granted a spacious study in the Viennese Hofburg where he started to work on his monumental Philharmonic orchestra paintings.
Oppenheimer faced Nazi persecution. His works were removed from German museums in 1937 and, in 1938 he emigrated, via Switzerland, to New York. In the spring of 1940, the Nierendorf Gallery in New York presented Oppenheimer's first American exhibition. His unfinished Philharmonic image toured the States and was included at the World Expo in San Francisco, CA.
In the years that followed, Oppenheimer's work fell out of the public eye. Attempts to return his monumental painting of the Philharmonics to Vienna fail. He was planning to attend the Vienna Summer Festival Exhibition 1954 when he died in his Manhattan apartment on May 19, 1954.
Today, Max Oppenheimer has been rediscovered and he is considered one of the great 20th Century Austrian Expressionist painters.